Cattern's day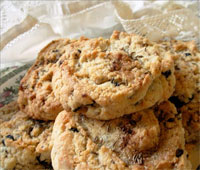 As most of you know, Wokingham Lacemakers celebrate Catterns Day by having a speaker to one of their meetings in November, as near to the 25th as possible. The reason for this is so we can celebrate the feast day of the patron saint of Lacemakers, St Catherine, and have Cattern Cakes.
St Catherine is the patron saint of spinners, weavers and lacemakers. She was Catherine of Alexandria, and was reputed to be one of the most intelligent and beautiful women of her day, but she was martyred on a wheel in 310 AD because she was a Christian. Her fame reached Europe with the return of the Crusaders; the Catherine Wheel firework and Catherine or Rose Window were named after her. The wheel of her death later became the emblem of the spinners and Lacemakers.
The story goes that she was the protector of young unmarried girls, and it was believed that maidens in need of a husband could crown her statue with a wreath of greenery on this day for their prayers to be answered.
St Catherine's Day was also chosen to honour Queen Katherine of Aragon, who was a patron of the local lacemakers during her imprisonment at Ampthill. She is said to have burnt all her lace and commissioned new lace to be made after hearing of the plight of the women in Bedfordshire, this giving work to the local lacemakers.
The lacemakers used to set aside a small amount of money to provide cakes and tea to be enjoyed on this day, hence Cattern cakes, and here is how to make them:
9oz /275g Self raising flour
¼ teaspoon ground cinnamon
1 oz/25g currants
2oz/50g ground almonds
2 teaspoons caraway seeds
7oz/200g caster sugar
4oz/100g melted butter
1 medium egg, beaten
A little extra sugar and cinnamon for sprinkling
Oven set at 200 degrees C /400 degrees F/Gas 6
Sift the flour and cinnamon into a bowl and stir in currants, almonds, caraway seeds and sugar.
Add the melted butter and beaten egg, mix well to give a soft dough (add a little milk if too dry).
Roll out on a floured board into a rectangle, about 12x10 inches/30x25cm.
Brush the dough with water and sprinkle with the extra sugar and cinnamon.
Roll up like a swiss roll and cut into ¾ inch/2cm slices.
Place on a greased baking tray spaced well apart and bake for 10 minutes.
Cool on a wire rack.
KIM Mudge
Features
Photographs from our 2019 annual lace day.
Photographs from our exhibition at the Needlework Archive.
Photographs from our exhibition at the 2016 Make-it show.
Demonstrating in Princes Mead.
Demonstrating at the village fete.
Updates on our pillow.